website design:
Renée Goularte
• Engaging, Encouraging, and Enriching our Community in the Visual Arts •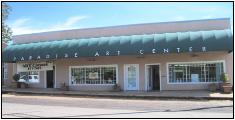 Upcoming Exhibits/Events
September
Members' Show
prospectus
September 17
50th Anniversary Celebration
$10 art prospectus
printable event flyer
October
Plein Air
prospectus
Nov - Dec 17
Teachers and Facilitators
January
Exploring Still Life
prospectus
Chocolate!
Plein Air
prospectus

Newsletter
Information about gallery shows, classes, workshops, upcoming events, and more.
Download the current issue of Art News.

Board Meetings
First Thursday of each month, 5:30 pm at the Art Center.
Members and the public are invited to attend.


Contact Us
For questions about classes or membership:
877-7402 • email
For questions about the website: email

More Information • Printable Flyer

In Wheeler Gallery September 3 - 24
Regular Gallery Hours: Mon-Fri 9-12 & 1-4 / Sat 1-4



• Paradise Art Center Classes and Workshops •
Click here for descriptions and schedules of classes and workshops.
Workshops
Vera Rodgers - More Colored Pencil
Weds. evenings from 5-8 pm; Sept 7 thru Sept 28th
Skin tone exercises plus individual projects.
Contact Vera at rodgers.vera@gmail.com by Wed. August 31st.
Sheri Schwarzweller - Polymer Clay: Faux Malachite Pendant Earring Set
Sat Sept 24, 2016 1-4pm. Create a stunning pendant & earring set.
More information at www.openwindogallery.com/classes.

Classes

Watercolor Exploration I & II
Mixed Media & Acrylic
Pottery
Chinese Brush Painting
Drawing & Colored Pencil
American Indian Art
Creative Drawing
Acrylic & Oil
Scratchboard Fridays

Studio Time
No Instruction • Lab Fees Only

Monthly Collage
Plein Aire
Ceramics & Sculpture
Advanced Watercolor
Creative Water Media
Open Studio Time
Click here for descriptions and schedules of classes and workshops.
Click here to read teacher & facilitator information.
• The current newsletter also has full descriptions of all classes.
• Use the class inquiry form to have an instructor contact you.